Video editing is trending nowadays for freelancers, YouTubers, and Mac users; they edit tons of videos daily for better presentation. They look to find the best Mac video editing free software to make their videos presentable. We have collected the top 10 best mac video editing software for mac users and will continue updating the apps for you. Without wasting time, let's check out this free software list.
It is a video editing free software for Mac specially designed for filtering, cutting, and encoding tasks on Mac, Windows, Linux, and BSD (under license). This free software provides full support and high compatibility to the variety of Mac's MPEG files, AVI, MP4, JPG, DVD, and MOV. You have options to cut video from the TV recording, color correction, or use filters to make it presentable.
Pros:
Open-source software without built-in purchase

Clean and easy to use interface

It supports ASF, AVI, and MP4 based on H.264 encoder.
Cons: 
Exporting process is slow and takes a bit longer.
Every Mac comes with iMovie, and you don't have to buy it separately. It has many features like audio editing, one-step effects, and movie trailers. The newer version of the iMovie video editor for Mac is great for uploading Youtube videos and editing them. Remember that Mac video editing software is free for the new Mac, not for all. You'll find it hard to master iMovie when you get started.
Pros:
It supports 4k video editing with ten filters available

It also works on iPhone or iPad

Compatible well with the Apple ecosystem.
Cons: 
Limited to 2 video tracks and two audio tracks.
Mac's free video editing software can edit, organize, capture videos and transfer them to create DVD quality videos. Arboretum's Hyperprism audio processors have been included as twelve studio-quality effects. You can edit text features to display credits and karaoke lyrics with font type, color, size, and section titles. HyperEngine-AV is a good free Mac video editor.
Pros:
It supports video editing and capturing desktop screens

You can make slideshows with its help as it includes 12 studio-quality effects
Cons: 
They are not updating the new version.
Everyone can use this editing tool on Mac and learn video editing skills. It is good software for beginners to learn basic editing skills from the Openshot without spending much time.
You can also do 3D animation along with basic video editing. With this free editor for Mac, you can edit almost 70 languages and won't find any language barrier issues.
Pros:
The software shows waveforms while editing video

Provide free built-in effects and animations

You can slice/ trim videos in no time

It provides templates to edit titles and supports the 3D title
Cons:
It frequently freezes and crashes.
It allows media professionals to mix different media types into one output file(s). It's also available for Windows and Linux. Over 150 built-in video effects make ZS4 Video Editor a powerful video editor. More importantly, you can combine video, audio, and photo files into one. You no longer need to install too many apps.
Pros:
It's a simple software where you can edit photos, audio files, and videos

It has unlimited tracks and more than 120 built-in video effects
Cons: 
The user interface is nonfriendly.
It is among the best free 360 Mac video editing software for Mac users. You'll find all the features you'd expect from a basic editor like audio editing, splicing, and trimming in this program. It's undoubtedly one of the best all-around free video editors out there, even if HitFilm is a little advanced for some users. It comes with over 180 special effects. Primarily based on well-known Hollywood movies, such as Star Wars, these tutorials are very interactive.
The price for such advanced software, however, is not prohibitive.
Pros:
It supports 3D video with composing and advanced cutting tools 

The product is available for Mac and windows

Facilitate green-screen effects, audio-video filter, and layers and masking

Truly professional free video editor.
Cons: 
It takes time to learn and process the interface.
A great mac video editor free version is Lightworks, available for Windows, Mac, and Linux. It is one of the most powerful free video editors on the list. Many great videos are available in Lightworks to quickly get you up and running. Most users will be satisfied with the free version as it also offers paid video editing programs if the free version doesn't meet your needs.
Pros:
High-precision video trimming is available in Lightworks' free version.

Multi-Camera support.

Export to YouTube in 720p.

Various video formats are supported.
Cons: 
Some users may find Lightworks difficult to use.

The software includes 4K video support for YouTube and Vimeo only (Paid version).
Hitfilm Express is a mac best free video editing software with professional features at a reasonable price. There are many free features, but learning it takes time. It is a very popular app. It is not entirely professional, but it is ideal for intermediate editors interested in visual effects. Easily create 3D effects with this editor. It is intended for this purpose.
Red Giant and Video Copilot plugins work together. It is the only After Effects alternative that supports both. For visual effects artists,s it's a good alternative to AAE (Adobe After Effects)
Pros:
High-level video effects compositor

Layers and masking

Range of import formats

180+ editing effects
Cons: 
It lacks a motion graphics feature.
You can use Blender with Microsoft Windows, Mac OS X, GNU/Linux, FreeBSD, or OpenBSD. Known as one of the best free video editors on the Mac, it is a free 3D graphics application. You can use it for texturing modeling, skinning, rigging, UV unwrapping, water, and smoke simulations, animating, rendering, particle simulation, etc.
You can use Blender as non-linear editing software to make animated films, video games, and interactive 3D applications. With Blender, you can access many advanced features, such as modifier-based modeling tools, material and compositing systems, Python scripting, etc.
Pros:
Blender is a 3D creation suite.

It supports CPU and GPU rendering.

It provides various brushes and sculpting tools.
Cons: 
The layers system is confusing; it's hard to manage animations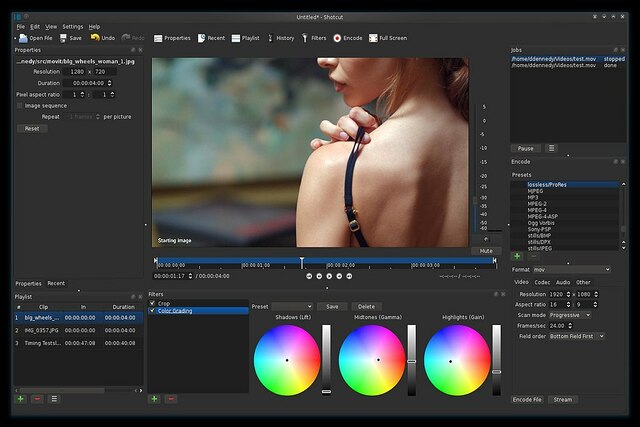 Free video editing software Shotcut works great on Windows, Macs, and Linux computers. Shotcut is fully open source, so there is no need to pay for upgrades. Some people may not like the software's interface, which is unusual. Shortcut was initially created for Linux, and that shows through. Shotcut supports timeline editing and 4K HD resolution. Not all free video editors do. Additionally, it does not require you to import large video files into the editor.
Pros: 
It supports 4K resolution and native timeline editing.
Cons: 
It's a bit difficult or unusual interface for some mac users.
Conclusion
If you want a mac video editing free software, the above list will help you choose one.