There is a no limit to the age at which you can succeed in business, and you may not know who will think of the next big idea. Launching a business may be the perfect opportunity, whether your teen has an entrepreneurial spirit or wants to earn extra spending money on their schedule. See some business ideas for teens that are perfect for their first business.
Business Ideas for Teens: What works?
Teens may find it easier to start and run a business if they meet a few criteria. Their schedules and resources, including startup capital, will be full. Consider these factors when evaluating small business ideas for teens.
Home-based or quickly accessible: (Transportation can be a significant concern for teens. For underage teens to drive or still learn, home businesses are an excellent option).
Flexible hours: (The best business ideas for teens will allow teens to work evenings and weekends)
Low financial investment: (Find out business ideas for teens online that require a low-cost financial investment).
1: Tutoring
Are you able to communicate well and have a sharp mind? Tutoring is a lucrative business venture, regardless of whether you are good at math, English, science, or music. It also doesn't require much capital upfront.
2: Child care
Teens can start a babysitting or child care business as a tried and true business idea. You can care for a neighbor's or family member's child on the weekends or even after school during the week. Local classes on babysitting and child care can help you stand out from your competitors.
3: A music lesson business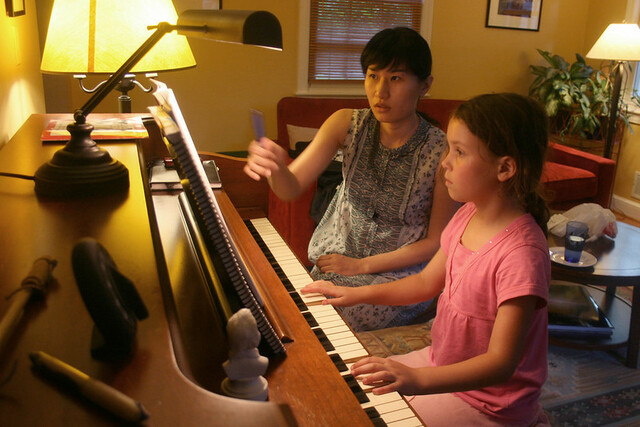 Teens can earn money by giving music lessons. You can easily find students who need lessons or extra help if you have a lot of experience playing your instrument. Music lessons businesses can start with small startup costs, especially if students bring their instruments. 
You will need to purchase the sheet music, but you can teach many of the lessons at home or in school. You can also increase your rates as you become famous and grow. The typical music teacher charges between $30 and $60 per hour, so this business can be quite profitable over time.
4: Blogger
The blogging business can also be a viable business idea for teenage entrepreneurs. By writing about a topic you're interested in, you can earn money from ads, product sales, affiliate links, etc.
5: Graphic Design
Teenagers can also start a graphic design business. Artists create artwork for businesses, including Websites, Logos, Marketing Materials, and Product packaging.
Before they start school, kids tend to develop skills in the arts. Spending money is essential for teenagers. Making money and preparing for college and a career can be fun with graphic design.
6:Lawn care and snow removal for neighbors
Visit neighbors and distribute flyers. You can also use an app like Sesame: Appointment Booking to set up a Shopify store for selling time slots.
7: Handcrafted goods for sale
Crafty teens with artistic skills can sell their creations and earn money. They could build a website to sell their crafts and promote craft fairs to a wider audience, or they could run a local business. You can make your jewelry for a small business if you enjoy arts and crafts.
Make DIY handmade items such as jewelry, invitations, decorations, stickers, and other accessories and sell them on online marketplaces if you are creative and skilled. Creating a website or social media page to sell your products online is one of the most popular business ideas online. Craft fairs are another good way to sell your goods.
8: Photography
Small business ideas at home like this are great if you are good at photography because you can work whenever convenient. It's your wish to shoot. You can, for example, take portraits for families, small businesses, or local brands, photograph events for local organizers or publications, or take your art and sell it as prints.
9: Freelance writing
You can earn more money as a freelance writer than a blogger by leveraging your audience. You can shop for work on Upwork or Fiverr if you're old enough!
10: Seasonal chores
Teenagers can also do seasonal tasks in a seasonal business. Many homeowners are busy around the holidays and want their homes to look festive and nice. Teenagers can start businesses by doing odd jobs at various times, such as setting up holiday decorations and lights, shoveling leaves and snow, wrapping gifts, etc.
11: Candle making business
Start your own candle business if you are crafty and creative, as a home business is a great way to get started. Craft fairs and weekend markets are great places to sell your candles. You can also sell them online through an Etsy shop. Materials cost only a few hundred dollars for the startup. By making and selling a lot of candles, a diligent candle maker can build a large and profitable business.
12: Entertainer for parties
A perfect business plan for teenagers involves starting a business that works mainly at special events, such as juggling, balloon artists, mimes, or even magicians who entertain people at events.
13: Pet sitting
This job involves caring for animals on someone else's property or home. Pet sitters should be passionate about animals and have experience with them. They should be trustworthy and responsible, so you can join pet sitting websites such as Rover or Wag to get started.
Using these websites, you can connect with pet sitters in your area. Dogs and cats aren't just there to pass the time while their owners are absent. Basic first aid skills are required and as knowledge of animal behavior. Teenagers who want to earn a little extra money while enjoying the company of furry friends have a large variety of business opportunities to choose from.
14: Makeup artist business
As a makeup artist, anyone who enjoys working with people may find beauty business ideas for teenage girls appealing. Social media can help you gain exposure.
If you're starting to do friends' makeup for prom, you can start this business as a teenager. Your friends will become your clients and come back for special events throughout their lives if you are establish a reputation among your peers early on. Most makeup artists work from home or travel to clients, so there are low startup costs. Making a sizable profit can be achieved as your business grows. Successful makeup artists earn six-figure salaries.
Conclusion
The above 14 business ideas for teens can be a great place to start if you want to help teens to earn some money. Starting a business will give teens a head start on learning crucial skills, such as time management and effective communication, wherever their lives may take them. Your teen will also make some money besides learning responsibility.