There is no hiding how much video editing software exists nowadays. There are a variety of professional-grade videos available on Instagram, Vimeo, Youtube, and a lot of multiple social media platforms. Suppose you are also a content marketer that is looking to produce quality with their engagement on media. You can also look for video editing on Windows software. They help you to achieve high-level editing with ease. 
We suggest you use photographs and videos as a combination to provide engagement on your platforms. With a combination of multiple contents, you can create a compiled list of video edits that are available on the websites. We understand that every videographer carries their own needs while making a video. This software provides you with a rundown of useful features that can help you to understand how to use each tool.
Free Software to Use for Video Editing on Windows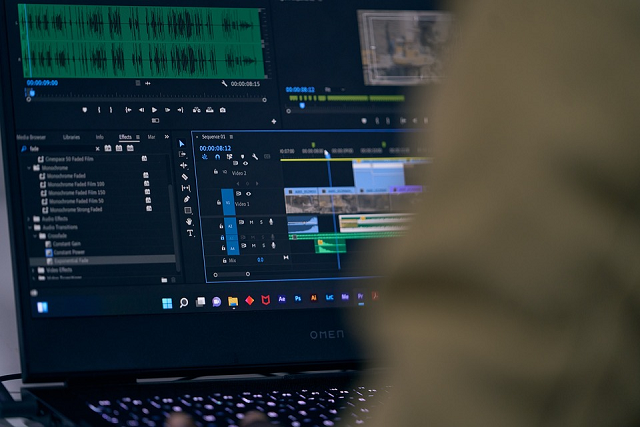 HitFilm 
If you're an inexperienced editor, you can use headphones at a beginner level. Even though Hitfilm may provide you with the interface of an advanced level at first, however, you can use it to produce Hollywood-style films. If you are going through a learning curve, it is going to be the best option for you to invest in. It provides you with an all-in-one free video editor option. You will be required to share your social media credentials with the platform while availing video editing for windows 10.
With hit film, you can use multiple animation tools that assist you with video editing on windows. They are best at creating transitions in any composite shot. With Hitfilm, we can save a great deal of time on your editing tasks. It provides you with cool 3D effects as a preset to help you get the best.
The prominent feature in hit films are:
Motion tracking feature for professional editing as well as color pickers options for you to select multiple colors

The auto stabilizer option removes any shaky footage of your video and provides a smooth touch-up.

Timeline track creation with no limitation on video and audio.

Trimmer option with adaptability that allows you to read from your clips again and again as well as manage the timeline.

The function provides the option of copying multiple attributes in one clip.

The auto mixer option is best for you to fine-tune any sound being placed for professional quality output.

Push, zoom, and resolve are three various transition options that you can use.
Lightworks
Are you new at learning video editing? Lightworks can be the best option for you to be simple and intuitive. The interface is easy to understand for anyone, whether it be a beginner or an intermediate level. You will find it easy to choose multiple options and get access to any one of the patterns easily. The video editing on windows software also provides you with a collection of detailed video tutorials that help you in using the software as a whole. It increases the overall accessibility of the software.
There are multiple original stock videos and music clips available on the software that help you to create video editing on windows 11.
The following are the prominent features:
Simple trimming is provided with a high-quality result. Fast and precise video editing.

Keep editing your project while it is being imported with high-speed optimization.

Syncing clips has become easy with the multi-clip editing option for multiple cameras. 

Project working has become easier in real-time by providing full control over the editing access.

Sharing of videos has become easy with the export options to YouTube, Vimeo, and Facebook, as well as other social media platforms.
iMovie
This popular iMovie option is a bundle with Mac OS. If you are an Apple user, you will find. Get in your native Apple apps. Therefore, you will find it easy to use this drive in your workstation. It is ultimately easy to use with powerful tools for your marketing effects on social media platforms for windows servers.
The biggest advantage of using iMovie is that your files are directly saved on iCloud. This means that your project is interchangeably available on iPhone, iPad, and other Apple devices. You're constantly updated with the latest versions of video editing on windows software.
Following our vital features of iMovie:
The wide view is supported by great cinema-quality filming.

Cloud storage allows you to be functional while working on the same project, be it on iPhone, iPad, or Mac.

There are dozens of quality studio animations available for professionals to use in the credits.

Pre-designed, stylish, and contemporary video filters. These filters allow you to work on a specific genre of filming, such as Western, sci-fi, horror, or Somber.

There are multiple sound effects available with speed controls that allow you to provide voice-over and control high-octane scenes. 
VideoPad
If you are looking to go completely free video editing on windows, a video pad is the best option. You can avail yourself of your quality editing without spending a single penny. You can find here multiple options and sound effects available in the library that is present. There are video composition styles, libraries, presets, and simple templates for 3D video editing.
There is only one drawback of this must-install app software. However, you, as an advance with your editor, may not find it convenient enough to use for your extreme-level videography.
Following are the features that you may like for video editing in windows 10: 
There is a double screen provided to the user that provides you with the facility to select clips and preview them at the same time. This is also known as an easy and intuitive editing option.

You can also avail yourself of the customizable transitions that are premade on the software. This can Polish your professionalism.

Once you are done with creating video files, you can easily export presets that are dedicated to specific platforms such as YouTube, Facebook, and others that require direct sharing.

A large library with transitions and effects is available to customize your professional videos.

Stabilization of your videos is easier with video optimization tools.
DaVinci Resolve
The da Vinci Resolves is one of the most professionally educated in software. There are multiple cool effects that you can use for visual effects, audio, and post-production. It is a single tool that provides you with a wide variety of choices and professional editing functions. If you are looking for a film, television show, and commercial option to edit, you are going to love this software.
It allows you both online and offline editing options. That is the best thing you can invest in with a high-performance playback engine. You are availing of the trimming and editing of fully processed videos with intensive formats. If you are an advanced editor looking for reliable project working software, this is going to be the best option for you.
The following features are loved by many: 
The dual timeline navigation was the access to quick navigation cutting. And from being options.

The Trim interface is designed in an inner dedicated manner to provide you with the ability to edit in detail.

Audio editing syncs with audio and video clips that provide you with intelligent sync of editing.

Picture and picture effects provide you with the Milton option to read to him, stabilize or provide dynamic zoom to your video.
Conclusion:
Fortunately, there are alternative video editing on windows software to Premiere Pro and other video editors in Hollywood. Some of the top free video editing programs are so feature-rich that they have been employed in theatrical releases and big-screen projects. So, even free video editors will polish your work in post-production. 
Throughout the course of our tests, we looked at the UI, the editing process, the tools, and built-in capabilities like VFX software.